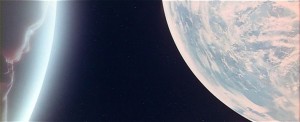 Då var eg ferdig med trilogien A space odyssey beståande av følgjande bøker:
Som Arthur C. Clarke skal ha sagt – ein god trilogi bør ikkje ha meir enn fire bøker 🙂 Det er ein spennande serie, skreve pÃ¥ vidt forskjellige tidspunkt. Første boka, 2001, er skreva pÃ¥ 60-tallet, 2010 pÃ¥ 80-talet, og dei to siste pÃ¥ nittitalet. At mennesket i løpet av den tida har tatt dei første famlande stega ut i rommet viser igjen i serien, men meir og meir detaljert info om dei ytre planetane.
Som vanlig er Clarke opptatt av ̴ f̴ det vitenskaplige s̴pass plausibelt at det ikkje blir kun fiction Рmen ogs̴ litt science.
Det litt unike er at han held spenninga i kvar bok, og kvar bok har et høgdepunkt, og ein konklusjon. Samtidig bygger det seg opp meir og meir spekulasjon rundt kva den svarte monolitten er, før ein endeleg konklusjon – som fortsatt bevarer litt spenning kjem i siste bind.
Absoulutt verdt å få med seg. Dei to første er forresten filmatisert. Verdt å sjå dei også:2001: A Space Odysseyt og 2010: The Year We Make Contact. Filmane er regissert av Stanley Kubrick.